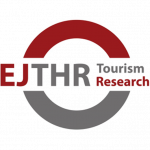 European Journal of Tourism, Hospitality and Recreation
TECHNOLOGY-BASED INNOVATION AND NEW PARADIGMS IN TOURISM
On October 28, a special session will be held on "Technology-Based Innovation and New Paradigms in Tourism". The organization of this session aims to leverage the production, dissemination and sharing of knowledge in this area. ITC and its partners intend to contribute to a profound and fruitful discussion on new trends, opportunities and challenges in the tourism sector that require advances in innovation and technology. The main guidelines for this special session are presented below.
---
The participation on this special track may be done in two formats:
1- Oral presentation with a submission of a structured abstract (max. 500 words using the proposed layout: download here)
2- Oral presentation with full-paper to be published (if selected) on the special issue of EJTHR.
Submission: Authors should make their submissions to the e-mail address
ejthr@citur-tourismresearch.com
making the following reference in the heading "Paper to be submitted to a special session of ITC".
IMPORTANT DATES
13/09/2020 – Deadline for submission of abstracts
15/10/2020 – Deadline for submission of full papers
Download SPECIAL TRACK DESCRIPTION
The papers accepted in this special session will be considered for publication in the European Journal of Tourism, Hospitality and Recreation (EJTHR), being therefore submitted to a double-blinded review process. Submissions must be in English following the journal's rules available HERE
---
TRACK EDITORS